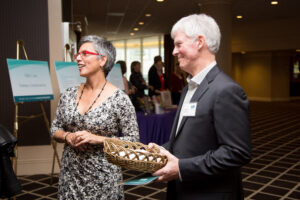 In October 2014, the Safe Crossings Foundation (SCF) Board of Directors welcomed William Borden as our new Executive Director to succeed Juliana Perez.
Bill spoke of his predecessor, "It's a trite saying, but here it's true: no one can replace Juliana Perez; one can only serve as her successor." The organization's current reputation and professionalism have much to do with Juliana's talent and compassion for our mission. After six years at SCF, she decided to pursue her own personal and business interests, which include consulting and training.
Bill joined SCF from EarthShare Washington, a Seattle-based federation of conservation organizations. "I feel compelled to make a difference in the lives of children and families," he said. "I know firsthand the anxiety, isolation and pain that accompanies the loss of a parent. I also know that kids are resilient, and can heal if they receive proper guidance and inspiration. Safe Crossings Foundation does that."
A resident of Seattle's Alki neighborhood, Bill is married with two young children.