Thank you to all of our sponsors, donors, attendees and volunteers who helped make our 2015 Luncheon a big success! More than 600 attendees filled the ballroom at the Sheraton Hotel Seattle. Complementing the festive décor, a pair of plush bears sat atop each table, representing the grieving children we support and those who stand by them in their time of need through donations or volunteering. Jayza Duhan, a Camp Erin- King-County participant delighted the crowd by singing "Stand By Me."  Pictured here are Jayza (center) with her dad, Willie and her mom, D'Juna.
Executive Coach,  Kathy Clifford shared her poignant story of being a volunteer at Camp Erin-King County and going through grief training before being assigned to a cabin of five and six-year-old girls.  She spoke of the moving love light ceremony where the campers made candle boats and released them lit into the nearby lake at night.  "Beyond  powerful" was her description.  Soon after, she met the love of her life, athletic, handsome John Clifford.  They married, moved to Carnation, Washington  and had a baby girl in 2006, the apple of John's eye.
Kathy remembers vividly the day of August 1, 2012 when John was killed while paragliding in a Canadian competition.  The doorbell rang at 11 p.m. with King County officials giving her tragic news.  "How do you comfort a five-year-old who has lost her daddy?  I was powerless, beaten, terrified, completely lost," she said.  Because of her volunteer work, Kathy knew to call Safe Crossings for help, and for years after, Safe Crossings supported Kathy and her daughter in working through their grieving process.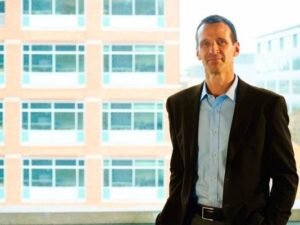 This year's Luncheon featured Safe Crossings Foundation's "Bridge to Healing" Award, given to Bob McCleskey, Chairman and CEO of Seattle based Sellen Construction.  Sellen has partnered with Safe Crossings Foundation since 2004, helping thousands of youth and their families. In 2014, Bob invited his fellow construction company colleagues to honor one of their own who was killed on the job while working to support his family of three. He spearheaded the campaign to raise $75,000, earning Bob McCleskey, Safe Crossings Foundation's first Bridge to Healing Award.