Karen Schrantz provides leadership as the Executive Director of Safe Crossings Foundation. Drawing on expertise from professional experience in both the private and public sector as a mediator, facilitator, educator, and executive director, Karen unites vision, energy and enthusiasm to her pursuit of bringing partners together to advance Safe Crossings Foundation's mission. She received her BA in American Studies from California State University, Fullerton, her teaching degree from the University of Mary Hardin-Baylor in Texas, her Master of Public Administration degree from the Evans School of Public Affairs at the University of Washington, and a specialty certificate from the UW's Non-Profit Executive Leadership Institute.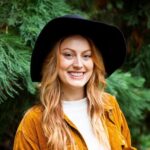 Development &
Communications Coordinator
As the Communications and Development Coordinator, Zoe Ottemiller widely supports Safe Crossings Foundation's team by bringing experience and understanding of social disparities to the work. From the beginning of her career, Zoe's focus has been on social justice and advocacy for vulnerable communities. While working with communities facing food insecurities and youth within the Washington state foster care system, she engaged stakeholders to decrease barriers impacting underserved populations.  Zoe has a BA in Communications from Portland State University and a Master's in Social Work from the University of Denver.
Anne Aumell joyfully serves as the Development Director of Safe Crossings Foundation. During her career, Anne has engaged donors and community members in the missions of several Seattle organizations, including UW Medicine, PATH, FaithTrust Institute, and Earth Ministry. She brings expertise in fundraising and nonprofit management to Safe Crossings Foundation, and a passion to sit knee-to-knee with people as they discern the impact of their philanthropy. Anne earned her BA in English Literature from the University of Washington and holds an MA in pastoral studies from the School of Theology and Ministry at Seattle University.
Megan Sutherland, Community Volunteer
President
Josephine Vestal, Retired Attorney, Williams Kastner
Secretary
Nicole Storck, Tax Partner, PwC
Treasurer
Wesley Burns, Principal, Transformational Advisory
Vice President
Brett Earnest, Vice President, Clark Construction
Vice President
Steve Brooks, President, UMC, Inc.
Lee Carswell, Senior Manager, West Monroe Partners
Annette Clark, Professor and Dean, Seattle University School of Law
David Cook, Director Strategy and Planning, Nia Tero
Shawn Hintz, Senior Vice President, UBS
Nathan Hoerschelmann, Attorney, Hoerschelmann Dietz PLLC
Heidi Howard, Director, Equinteractions
Debra Rubin Levin, Community Volunteer
Michael Lightfoot, Community Volunteer
Jessica Abramson Lott, Principal, Curiosity Works
Nicole Mackenzie, Attorney and Managing Director, Williams Kastner
Colleen Robertson, Head of Marketing, Liv Tours
Mike Turian, Product Architect, Wizards of the Coast
UW Board Fellows (non-Voting)
Diane Aboulafia, CEO, Great Work Strategic Communications
Teresa Bigelow, Community Volunteer – Safe Crossings Foundation Founder
Donna Haggarty-Robbins, Owner, You're My Heroine
Bill Leedom, Community Volunteer
Flip Morse, Community Volunteer
Thomas Hall, Retired CEO, People's Injury Network NW
Catherine Holmes Wilkins Foundation
Crockett Family Foundation
Fales Foundation Trust
Glassybaby Foundation
Grousemont Foundation
Impact West Seattle
Kawabe Memorial Fund
Kelly Foundation
McEachern Foundation
MultiCare Community Partnerhship Fund
Norcliffe Foundation
Norman Archibald Charitable Foundation
Puyallup Tribe's Charity Funds
Tulalip Tribes Charitable Fund
Vatheuer Family Foundation
Windermere Foundation