Caroline Wright, children's book author and mother of two little boys, was diagnosed with the most aggressive brain cancer, a glioblastoma, and given a year to live. During that year, Caroline spent all her time working on her legacy, focusing on writing stories to leave for her two boys.
Everlasting Creature
, a book for children about the journey of illness and loss, is one of these books.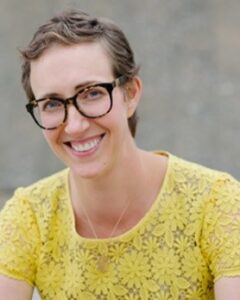 Caroline has a warmth and gentle nature that is hard to miss.  She has made peace with her situation and that is clear when you interact with her.  Safe Crossings Foundation has been fortunate enough to help Caroline with her mission of getting this book to kids who need it. 
"I wrote a children's book about a parent with terminal illness, as I am a parent who was diagnosed with a terminal illness. I am not religious and the kinds of comforting language that is often offered to children felt dishonest to me with my own in discussing the possibility of my leaving them." "This book isn't about death, or the end at all. It's about love, the kind I have for my kids and that I share with so many other parents: the everlasting kind. I realized that if I died, my love wouldn't go away. It would ebb and flow, show up unannounced in little memories, live in our home like I had—almost like a being in itself. And so, the Everlasting Creature was born." "It has been clear since my diagnosis that even the general idea of death makes some people uncomfortable, which makes this a challenging project for most publishers to be excited about. The warmth behind death is only apparent to those who have seen and embraced it, like me. There are families out there that need this book to be made. Mine is one, surely, but not the only. So here I am, publishing it." "One of the great opportunities held within publishing it myself was that I could build into it the social responsibilities elements I really see as a part of it—a sort of "one for one" concept—that get this book directly into the hands of those who need it most through children's bereavement organizations.  I wanted to use this opportunity of self-publishing to connect directly with bereaving children, the actual little people – like the actual little people in my family—for whom this book is intended. For free. " In the book, a mother is diagnosed with a terminal illness at the hospital and is sent home with a magical creature that embodies the strongest part of her: her love. The creature settles into their family home, supporting the mother in the moments she spends with her son, like reading, cooking or painting together. After the mother's death, the creature moves into the son's room and does all the same things they did together when the mother was alive. The shape of the creature's role shifts from supporting the mother to supporting the son through his grief. Her love never dies; the creature reminds the son of this fact with their tender moments that had been shared with the mother. At the end, the creature, and the mother's love, bonds the son with the father. They are never without her. After Caroline self-published 
Everlasting Creature
, it was picked up by the editors at Random House publishers in New York. They loved it and wanted the creature's message to reach even more kids with the help of their imprint Rodale Kids! Their version, which closely resembles the one we share here at Safe Crossings, is called 
Lasting Love 
and will be available this summer. For information about Caroline's upcoming book tour, go to 
www.carolinewrightbooks.com
 as it develops.