2022 Northwest Conference on Childhood Grief
In response to a call from local providers of children's grief support, Safe Crossings Foundation presented the 8th Annual Northwest Conference on Childhood Grief. As the leader in funding grief support services for children in the Pacific Northwest, Safe Crossings Foundation hosted a conference that provides continuing professional development credits while building community, sharing ideas and learning together.
This one-day conference was held virtually on Thursday, April 7, 2022. The conference was designed for support providers such as clinicians, therapists and counselors, therapists-in-training, teachers, school staff, and healthcare workers.
When: Thursday, April 7th, 2022 (8:30am – 3:00pm PST)
Where: Online 
Registration Fees:
• Conference Admission: $60.00
• Student Conference Admission: $30.00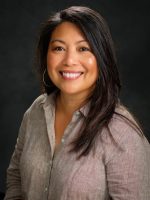 Alice Ryan, LICSW
Clinical Manager of the Journey Program, Seattle Children's Bereavement Program and Lecturer, University of Washington School of Social Work
The Wisdom of Grief: Utilization of grief support techniques to mitigate the impact of COVID-19 Epidemic in Youth
The COVID-19 epidemic presents many challenges to maintaining healthy mental wellness. The psychological impacts of the COVID-19 epidemic in youth can be mitigated by techniques in grief work. 
Alice Ryan, LICSW, and Clinical Manager of the Journey Program, Seattle Children's Bereavement Program will discuss rationale to use the same techniques used in grief work to assist children in utilizing adaptive coping mechanisms during the prolonged COVID-19 pandemic. Examples of the effectiveness of grief techniques will be provided through an examination of congruent experiences and symptomology of grief and loss alongside the psychological impacts of the COVID-19 epidemic.
Speaker: Laura Takacs, LICSW, MPH
Sudden, traumatic death can leave loved ones overwhelmed by horrifying images, profound sorrow and guilt, and desperate to find a resource to help. If not trained to address the combined distress of trauma and grief often experienced after a sudden, traumatic death, counselors may also feel anxious, frustrated, and challenged without an understanding of how to provide the support needed.

Laura Takacs, LICSW, MPH and former Clinical Director of Virginia Mason Grief Services, will provide a 60 minute introduction of her work supporting those bereaving a sudden, traumatic death. Her presentation will include how to begin processing trauma images with clients, helping clients identify sources of strength that will help navigate day-to-day trauma and grief symptoms and assisting clients maintain feelings of connection to their loved one.
Speaker: Samiira Mohamed, MSN
A family's culture dictates not only the established traditions for mourning, but also the ways in which a person may internalize the experience of loss. As the racial, ethnic, and cultural diversity of the U.S. population continues to increase, there is an ever-growing need for clinicians to become culturally competent in all aspects of care delivery–and this includes the care we provide to grieving immigrant and refugee families.

Geographical relocation induces a sense of loss, and the reactions are similar to grief. There are two types of losses: physical, which refers to tangible loss, such as loss of a loved one; and symbolic loss, which refers to abstract loss, such as loss of a homeland, status, social environment, ego strength and social identity in which indeed immigrants experience the most. Loss of any of these will bring about the grief stage.
Speaker: Kelsey Sawyer, MA, LMHCA, R-DMT, Grief Yoga® Certified Teacher
This presentation will acknowledge the personal and collective grief experienced by grief professionals, and provide participants the opportunity to explore these feelings through movement.Themes of self care, burn out, and compassion fatigue will be addressed, as well as ways grief can impact the body. Participants will be led through a grief yoga® movement experience to practice their own self care and process the grief they may be holding on a body level using movement, breath, and sound. There will be time at the end of the presentation to reflect on the experience.
• Provide education on best practices through the exchange of timely clinical information, programs, advances in research, and successful ideas for children's grief support programming
• Provide practical tools and skills to use when supporting grieving children
• Create a space for sharing, connecting, and learning from each other and diverse perspectives
• Promote networking and support among colleagues
COntinuing Education Credit Offered
Skills Level:   Beginning, Intermediate, Advanced.  Participants are urged to review the session descriptions to determine appropriateness for professional and personal needs.
Non-Credit Events: CE credit is not offered for registration, board meetings, meal functions, social events, and breaks.
Completed CE Materials:  Please prepare your professional license information to include on CE application materials. CE packets will be completed online.
NOTE:  To receive continuing education credit, applicants must complete all CE materials, sign in/out at designated locations, and submit an evaluation form for the sessions attended. 
NOTE:  It is the responsibility of the attendee to determine if CE credit offered by The Institute for Continuing Education meets the regulations of their state licensing/certification board, including the Ethics Workshops scheduled.
NOTE:  Ethics credit is not offered for any workshop sessions