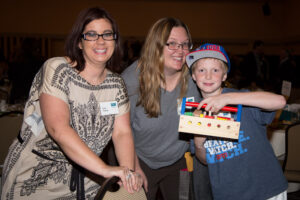 Imagine an 11 year old boy at a table of complete strangers, telling the story of what he went through after his dad died. Pretty brave, right? That's exactly what Marcus, a Safe Crossings Program participant, did at last year's luncheon.
After walking into a room of 630 people, Marcus took his seat and cautiously began talking with the table of corporate executives about his experiences at Camp Erin and Safe Crossings Program. He soon learned that Jeff, the man sitting next to him, had two young nieces who had just lost their father. Marcus pulled out his book called When Dinosaurs Die and explained how much he treasured the story because it helped him feel better after his own dad died. He then urged Jeff to take the book home and share it with his nieces. Jeff was astounded at the courage and compassion that it took for this young boy to tell his story and then give away his special book in order to help other children like him.
It's thanks to generous donors like you that Marcus had the counseling he needed to not only process his grief, but also gain a sense of confidence and empathy that stretches beyond his years. Last year's luncheon was one of the most successful to date, raising $436,000,  which enables more kids than ever to access the same life-changing services that helped Marcus regain his confidence and optimism.