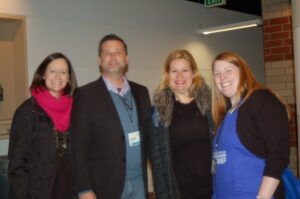 Thanks to funding from our generous donors, two years ago Safe Crossings Foundation conducted a thorough assessment of child grief services in the Puget Sound region, identifying 14 current, viable programs.
From that assessment came a wish from grief support providers to share learning and best practices in a local venue. Thus was conceived the first Northwest Conference on Childhood Grief for therapists, counselors, nurses, teachers, and other practitioners in the field.
Held in Seattle on February 20-21, 2015, the conference attracted 130 folks from all over the Northwest. Your support allowed for Kenneth Doka, PhD, MDiv. a Professor at the Graduate School of The College of New Rochelle and a senior consultant to the Hospice Foundation of America (HFA) and a world renowned speaker, to talk on the subject of childhood grief and grieving.
Other topics included special therapy camps for youngsters, art projects, classroom curricula, drama techniques and mindfulness practices – all designed to help children and their families cope with the loss of a loved one. The conference closed Saturday afternoon with a stirring talk by Michelle Post, who cajoled the audience to "take care of yourself as you take care of others!" Judging by the excited, smiling individuals who came up to us afterward, another conference appears inevitable.