The Power of Grief Support Animals
I remember when my own therapy-dog-in-training, Rosie, seemed to know instinctively what to do when at the bedside of my dying landlord. Even though she had yet to begin her training, a puppy of 6 months, she tenderly placed her chin on my landlord's feet providing a soothing presence. Upon his death, she moved from person to person sharing a moment of pause with each individual.  Rosie's presence was exactly what was needed by those who had been holding vigil by the bedside.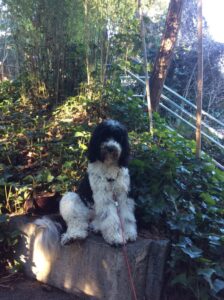 Animal Assisted Therapy is a form of therapeutic support using dogs and other appropriately certified therapy animals. Through the caring and careful attention of a facilitating counselor, the therapy animal supports a therapeutic process.  The value of the animal's presence is limitless. Some specific therapeutic benefits that Animal Assisted Therapy provides include: decreases isolation; offers unconditional acceptance; provides non-judgmental presence; interacts with unconditional love and listening; provides physical connection; and provides comfort emotionally, physically and cognitively. Additionally, therapy animals enhance self-esteem and self-efficacy. Research has also shown that Animal Assisted Therapy helps lower anxiety and cortisol levels – a stress-related hormone.
As a Child Life Specialist, I witnessed first-hand the therapeutic impact therapy animals provide for hospitalized youth of all ages. It has been a long-standing dream to cultivate a team partnership with an animal for our work with grieving individuals.
The love and open-hearted acceptance of an animal are two of the most powerful healing ingredients one could hope to offer a grieving individual. Sometimes there are no words; animals need no words. Grief is supported by presence. Therapy animals are experts at summoning the pure art of presence. They reach the heart; the heart is where grief resides. These specially trained animals seem to be fluent in what we humans call love. A grieving individual yearns for their special person because of love.
Rosie was found after researching breeds that I felt would be appropriate for the Safe Crossings Program at Providence Hospice of Seattle. She is a medium sized Teddy-Bear Bernedoodle. Teddy-Bear Bernedoodles are known for their gentle nature and loving presence with children and adults.
As Rosie demonstrated her aptitude for tenderness at my landlord's bedside, I see her now as my collaborator in working with end of life issues. As we partner together to reach our goal: Therapy Dog for Grief Support Services at Providence Hospice of Seattle and the Safe Crossings Grief Support program at Providence Hospice of Seattle, I witness the teacher she is to me. I am humbled by her earnest delight and interest in connecting with others and her instinctive support to the vulnerable. It is a genuine privilege to embark on this journey with Rosie. I look forward to her debut when she becomes a certified colleague for our department.
Jill Meyers, MA, CCLS
Safe Crossings Counselor with Providence Hospice of Seattle